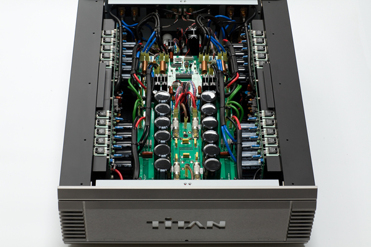 Titan är en 2 - delad skapelse som väger ca 150 Kg. Det är med andra ord ett slutseg samt nätdel i var sitt kabinett. Allt för att elmiera störningar från respektive enhet så att de inte interagerar.
TITAN är ett utan tvekan det ultimata slutsteget. TITAN är ett makalöst välljudande slutsteg med i det närmaste oändligt med effekt.
TITAN lämnar inte mindre än 1000 W i 8 Ohms last. Utöver detta dubblar den effekten hela vägen ner till 2 Ohm. Förutsett att dina kablar och din elförsörjning är stabil nog, så lämnar TITAN närmare 4000 W per kanal i 2 Ohms last.
TITAN kommer i 2 delar, slusteg och nätdel. Den sammanlagda vikten är närmare 150 Kg, så du bör ha hjälp med att lyfta in denna oerhörda pjäs.
TITAN är ett prestigebygge och lämnar inte bara omåttligt med effekt. Det är en genuin Hi Fi produkt som speglas ner i serierna. Ett flertal av Musical Fidelty's övriga förstärkare använder sig av samma eller snarlika konstruktionslösningar.
TITAN levererar en fullständigt neutral, avslappnad och magiskt stor ljudbild med klippstabil basåtergivning. Dynamiken blir dramatisk med TITAN's enorma uteffekt och man får helt klart vara försiktig med volymen eftersom TITAN har resurser att orsaka en härdsmälta i dina högtalare.
Den höga effekten är dock endast till godo, för TITAN levererar en magisk återgivning genomgående och är nog det närmaste man kan komma mot "ett öppet fönster till musiken"...
... "CD was etched into the room with breathtaking clarity, neatly crafting subtle bass lines in a way that few other amplifiers manage." ...
... "Never have we heard a traditional amp which does everything quite so well. From the tightest of bottom-end notes right up into its extended top-end." ...
... " VERDICT: sophisticated and technically accomplished, this amp has every right to revel in the cliché of being an open window on the music. Stunning midrange lucidity and a potent yet always sprightly balance make for wonderful musicality and hi-fi magic of the highest order." ...
YEARBOOK 2010 HI-FI NEWS
... "Despite its enormous output power and dynamic range capability, Musical Fidelity's Titan offers measured noise and distortion more typical of a high-quality pre-amplifier than a power amplifier. Technically, this is an extraordinary amplifier." ...
... " The Titan treated me to effortless transparency and palpable images free of even the suggestion of etch or edginess." ...
... "It produced a tube-like musical flow and textural suppleness completely free of clichés of solid-state hardness or starch." ...
... " The Titan seemed to have an unlimited ability to play loud, louder, and louder, without changing its sonic personality-and, with all that power, without ever sounding strained." ...
... "With the new Titan, Musical Fidelity becomes a player in the top echelon of makers of luxury, high-powered amplifiers." ...
... "Its build quality is impressive by any standard, and sonically, the Titan's combination of smooth refinement, aggressive grip, and silky transparency effectively bridges the gap between the sounds of tube and solid-state." ...
... "I can't imagine anyone hearing the Titan and not loving it." ...
JUNE 2009 STEREOPHILE
... "I was smitten. Smitten in the way where you start calculating how much your current power amps might realise on eBay." ...
... "The Titan is an instantaneous transportation to the date, time and place. It is being there in the crowd with the full ambience of the venue filling the room around you, the music imaging with sublime precision."
... "The Titan is the best power amp I have ever heard." ...
... "Never have I heard an amplifier which does everything quite so well. From the tightest of bottom-end notes right up into its sweet and extended top-end it is quite magical." ...
... "The Titan is, I would say, the best power amplifier I've used." ...
MAY 2010 HI-FI NEWS